Ecovolta evoTractionBattery
FOR VEHICLE MANUFACTURERS - THE KEY TO THE ELECTRIC FUTURE
The Ecovolta evoTractionBattery outperforms lead batteries in all aspects. With its patented Lithium-Ion system, it offers high energy density without active cooling and are 100% maintenance-free. The Ecovolta Traction Battery can, dependent on application, be connected in parallel and/or serially. The communication runs through CAN-BUS with the master battery, which automatically steers all connecting (slave) batteries.
Development costs for vehicle manufacturers are significantly reduced
Until recently battery packs needed to be developed for each individual vehicle. The associated time required for this has meant additional risks and has made electric vehicle production only economical in large quantities. In contrast the evoTractionBattery from Ecovolta is certified as a complete solution and can be quickly applied. According to Ecovolta, it is estimated that vehicle manufacturers can save between 250,000 to 500,000 Euros in development and certification costs, when developing a battery with an operating voltage of 48 volt and a capacity of 10 kilowatt hours. In addition, customers usually expect a development time of up to 2 years, for a battery pack with a fitting BMS system. In contrast the evoTractionBattery can be configured within a few hours, regardless of its application, be it for a golf cart or a heavy goods vehicle.
Key data

Key advantages

• 24V or 48V

✔ Adapt existing or small vehicle series to electro mobility

• 2,5 kWh to 15kWh

✔

Save up to 500.000 Euros on development and certification costs
• Master/Slave CAN-bus

✔

Configured within several hours, regardless of its application
• Integrated BMS
• Dimensions LxB 520 mm to 218 mm

• Serial and/or parallel connection:
24V to 829V and total capacity of 2.5kWh to 7.600 kWh
The comparison
The evoTractionBattery is consistently convincing in a direct comparison with conventional lead batteries (for example 48VDC/200Ah/10kWh):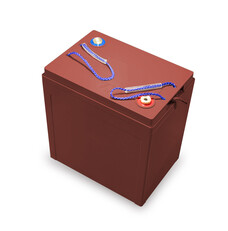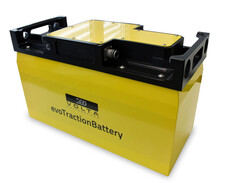 Lead
9.9 kWh
48 Volt DC
40 Wh/kg
300 kg
50%
1.200
Leakage with water loss during loading
Maintenance required
Negative life expectancy effect
90% charge in 6 to 7 h
0,4 to 0,5 EUR
Battery chemistry
Capacity
Voltage
Energy density
Weight
Discharge depth (DOD)
Cycles

Emissions

Maintenance
Intercharging effect

Fast charging

Cost per kWh drawn
Lithium-Ion
9.9 kWh
48 Volt DC
200 Wh/kg
5 kg (6x lighter)
90%
3.000
Emission-free
100% maintenance free
No influence on service life
90% charge in less than 1h
0,25 EUR (up to 50% cheaper)
Technical details

evoTractionBattery 48V/300Ah/15kWh



Battery chemistry:

Lithium-Ion NMC

Voltage:

51,8 V DC

Capacity:

288 Ah

Energy

:
14,9 kWh

Communication ports

:
2 x CAN

Discharge current

:
250 A (500 A)

Max. discharge current

250 A (900 A)

Charging current:


250 A (279 A)

Dimensions (LxWxH):


520x218x440 mm

Protection class:


IP67

Temperature range:


-10°C bis +40°C (integrated heating)


Certification:

CE

Weight:


67 kg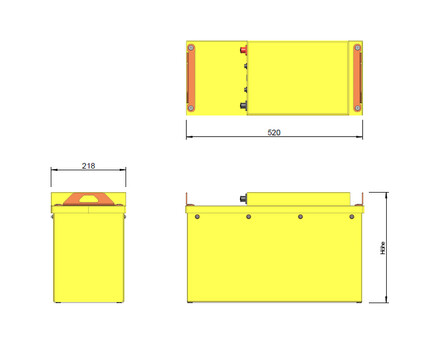 Technical details

evoTractionBattery


48V/200Ah/10kWh
| | |
| --- | --- |
| Battery chemistry: | Lithium-Ion NMC |
| Voltage: | 51,8 V DC |
| Capacity: | 192 Ah |
| Energy: | 9,9 kWh |
| Communication ports: | 2 x CAN |
| Discharge current: | 250 A (360 A) |
| Max. discharge current: | 250 A (600 A) |
| Charging current: | 192 A |
| Dimensions (LxWxH): | 520x218x186 mm |
| Protection class: | IP67 |
| Temperature range: | -10°C bis +40°C (integrated heating) |
| Certification: | CE |
| Weight: | 50 kg |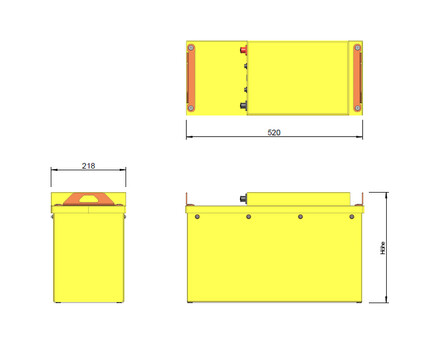 Technical details

evoTractionBattery


48V/100Ah/5kWh
| | |
| --- | --- |
| Battery chemistry: | Lithium-Ion NMC |
| Voltage: | 51,8 V DC |
| Capacity: | 96 Ah |
| Energy: | 4,9 kWh |
| Communication ports: | 2 x CAN |
| Discharge current: | 180 A |
| Max. discharge current: | 250 A (300 A) |
| Charging current: | 93 A |
| Dimensions (LxWxH): | 520x218x200 mm |
| Protection class: | IP67 |
| Temperature range: | -10°C bis +40°C (integrated heating) |
| Certification: | CE |
| Weight: | 28 kg |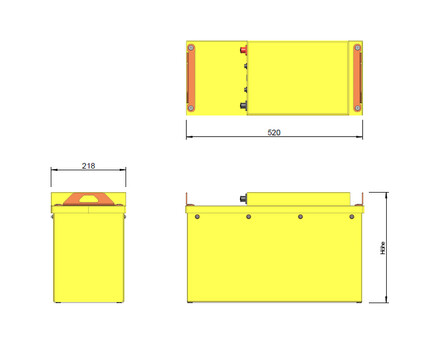 Technical details

evoTractionBattery


24V/200Ah/5kWh
| | |
| --- | --- |
| Battery chemistry: | Lithium-Ion NMC |
| Voltage: | 25,9 V DC |
| Capacity: | 192 Ah |
| Energy: | 4,9 kWh |
| Communication ports: | 2 x CAN |
| Discharge current: | 250 A (360 A) |
| Max. discharge current: | 250 A (600 A) |
| Charging current: | 186 A |
| Dimensions (LxWxH): | 520x218x200 mm |
| Protection class: | IP67 |
| Temperature range: | -10°C bis +40°C (integrated heating) |
| Certification: | CE |
| Weight: | 28 kg |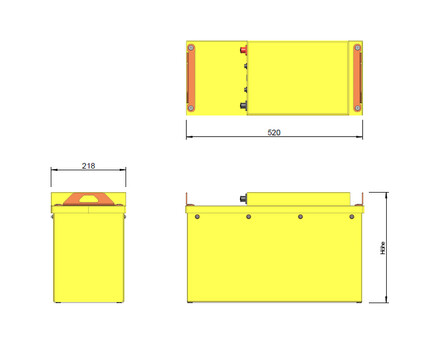 Technical details

evoTractionBattery


24V/100Ah/2,5kWh
| | |
| --- | --- |
| Battery chemistry: | Lithium-Ion NMC |
| Voltage: | 25,9 V DC |
| Capacity: | 96 Ah |
| Energy: | 2,5 kWh |
| Communication ports: | 2 x CAN |
| Discharge current: | 180 A |
| Max. discharge current: | 250 A (300 A) |
| Charging current: | 93 A |
| Dimensions (LxWxH): | 520x218x140 mm |
| Protection class: | IP67 |
| Temperature range: | -10°C bis +40°C (integrated heating) |
| Certification: | CE |
| Weight: | 18 kg |